Xtreme Brush Cutters
Xtreme Brush Cutters is your answer if you need professional, efficient and cost effective brush cutting, land clearing, and mulching services anywhere in the central Alabama area. Our efficient and state-of-the art equipment and professionally trained equipment operators
have provided quick and easy work of jobs large and small in Birmingham, Bessemer, Hoover, and just about everywhere else in central Alabama. Give us a call or contact us online for a free estimate and we will make your overgrown brush, trees, and kudzu covered property cleared and usable.
Benefits of Using Xtreme Brush Cutters over Traditional Land Clearing Methods
The benefits to you of using Xtreme Brush Cutters are numerous and important. One of the most important benefits is that our land/lot clearing system is environmentally friendly and safe. Traditional land clearing methods destroy native feeder root systems and thus causes unsightly and environmentally devastating ground erosion. Xtreme Brush Cutters use high speed brush and timber mulches that quickly turn heavy brush and trees up to 8" diameter into highly desirable, nutrient rich mulch. Watch us mulch a tree.
Other Benefits:
* Eliminates the Need for Burning
* Eliminates the Cost of Hauling and Disposing of Debris
* Eliminates Erosion and Run off Problems Associated with Traditional Land Clearing Method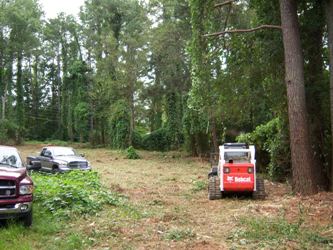 * Keeps Organic Nutrients from the Mulch Enriching the Existing Soil
* Does not Disturb the Ground or Topsoil
* Saves You Money and Time
* Safe to surrounding property and the areas of growth and trees you want to retain, (read our story.)
The Story of Xtreme Brush Cutters
Xtreme Brush Cutters is a local, family owned business. Jerome and Dana Taft lived in the country for years and used farm tractors to take care of brush and keep woods clean. In 2002 they bought 19 acres of beautiful hard woods in north-central Alabama. They hired a bulldozer man to cut a road in and clear a place to build They worked an hour away and when they returned instead of a road and cleared lot they returned to four acres of their property pushed and gutted. In that bad experance with land and lot clearing the idea of Xtreme Brush Cutters was born. Read Jerome and Dana's full story.
Give Jerome, (205)-991-1715, or Dana, (205)-441-1624, a call and let them tell you tell you how they can solve your bursh cutting/land clearing problem. Or request a free estimate online.