Xtreme Brush Cutters - Land Clearing
Xtreme Brush Cutters can easily and quickly mulch heavy underbrush and up to 8" trees, but should I just clear my land my self? This exchange from a "do-it-yourself" website sheds some light on the subject:
"DEAR TIM: Land clearing is now on my radar since I purchased some raw land to build a new home. The land has lots of trees and bushes. I don't know where to start or how to do this. Is clearing land something I should consider doing myself? What kind of land clearing equipment would I need? Are there regulations about land clearing that affect what I do? Mike G."
"DEAR MIKE: I can think of lots of do-it-yourself projects, but I have to be honest; land clearing would be either at the bottom of the list or left off on purpose. Clearing land is hard work, and typically involves lots of large heavy equipment not usually operated by weekend warriors. I am not saying you can't do this, but I am saying it is a very large-scale project, even if it is a smaller building lot."
Xtreme Brush Cutters has the equipment and the experience to clear your lot/land quickly and cost effectively. Mulching also eliminates the need to burn or haul off and dispose of debris, saving you time and money and saving the environment.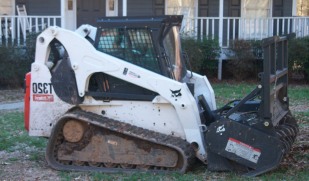 Land/lot clearing is performed using a "Bobcat" mounted flail mower or mulcher. We have equipment with rubber tracks which provides low ground pressure for sensitive areas and is also inherently stable and suitable for working on slopes.
Traditional land clearing can leave you with ugly eroded ditches and allow rain and run-off water or wind to rob you property of precious topsoil. Protect your land, (and your neighbors property,) give Jerome, (205)-991-1715, a call and let him tell you tell you how Xtreme Brush Cutters can solve your lot cleaning, brush cutting, or land clearing problem. Or request a free estimate online.