Movie may take a few moments to load
Xtreme Brush Cutters - Brush Cutting
We will make short work of heavy underbrush, leaving you property clean and resistant to wind or water erosion. Mulching brush and trees protects the environment and land by not disturbing the native feeder roots which and thus prevents air and water erosion. The mulch is full on nutrients for the soil.
Brush cutting by mulching also eliminates the need to burn or haul off and dispose of debris, saving you time and money and saving the environment.
Brush clearing in the Central Alabama area is our specialty. Xtreme Brush Cutters provides brush clearing and land clearing services that require no burning in the following Alabama counties: Shelby, Jefferson, Talladega, Tuscaloosa, St. Clair, Clay, Blount, Walker, Chilton, Fayette, Perry, Hale, Elmore, Randolph, DeKalb, Marshall, Cullman, Tallapoosa, and Coosa. Our brush clearing and land clearing services are available in and around Birmingham, Alabama, Bessemer, Alabama, Hoover Alabama, Alabaster, Alabama, Pelham, Alabama, Montgomery, Alabama, Tuscaloosa, Alabama, Jasper, Alabama, and many other areas northern and central Alabama.
Xtreme Brush Cutters' brush mulching process is the best technique you'll find for the infestation of kudzu and heavy underbrush in Alabama. No burning necessary. We provide all of Central Alabama and surrounding areas with brush clearing and land clearing services. Underbrush removal can allow desirable vegetation,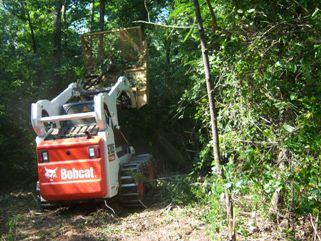 such as oak, pecan and native grasses to thrive, and restore land to its native condition. Our forestry mulchers are the fastest and most cost-effective method for brush clearing and land clearing. We can remove brush without damaging valuable trees and the ground, leaving land in a park-like condition. Contact us for a free price quote. Our light-weight but powerful forestry mulchers can often cover twice as much ground as traditional machines in the same amount of time, grinding all unwanted brush and trees up to 8" diameter into mulch. With top-of-the-line equipment and years of experience, we clear land quickly and leave property with a manicured look. Our forestry mulchers selectively remove unwanted brush without damaging valuable trees. More traditional methods of land clearing, such as bulldozing, often result in problems for the land-owner, including expensive material haul-off, unsafe site burns, and damage to the ground and desirable trees.
Our forestry mulcher's size and maneuverability are unmatched in the land clearing industry. We can clear brush and cedar in tight spots that bulldozers won't even attempt. Soil compaction for our machines is less than the human foot. While soil compaction of a dozer can often kill more than 20% of the valuable trees in its work area and leave unattractive ruts. Xtreme Brush Cutters machines will devour trees and brush up to 8 inches in diameter. Stumps are cut to ground level, leaving land with a smooth terrain that can be driven on by trucks and equipment immediately after land clearing and Alabama Brush Clearing. The mulch left behind will hold soil in place during heavy rains preventing soil erosion and creates ground cover. The blanket of mulch also retains moisture and improves soil quality, promoting the germination of native grass seed.
Brush mulching is the most ecologically progressive technique available to Alabama land owners. Help us improve Alabama one acre at a time by removing the invasive kudzu!

Xtreme Brush Cutters gladly accepts PayPal and major credit cards.
Protect your land, (and your neighbors property,) give Jerome or Dana, a call at (205)-991-1715, and let them tell you tell you how they can solve your brush cutting/land clearing problem. Or request a free estimate online.