nBirmingham.net
Elementary & Secondary Education History in Birmingham, Alabama
Woodlawn High School
Woodlawn High School was established in 1916 after Woodlawn was annexed into Birmingham. The present building on 1st Avenue North, designed by architect Harry B. Wheelock, was completed January 30, 1922 for an initial enrollment of 700.
A large mural in the high school's auditorium was painted between 1934 and 1939 bySidney van Sheck and Richard Blauvelt Coe for the Works Progress Administration. A campaign is underway to raise $190,000 for restoration of the mural.
The "Warblers" are a men's chorus that started as a singing club at Woodlawn, active from 1929 to 1977. Most current Warblers members are alumni of the Woodlawn club. In 1956 the Woodlawn debate team, coached by Rose B. Johnson, won the inaugural Barkley Forum, a prestigious debate tournament atEmory University in Atlanta, Georgia. Woodlawn's Junior R.O.T.C. program has been active since 1922 and has started the military careers of numerous officers in the U.S. Military.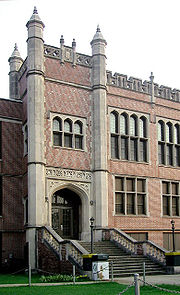 Under legendary multi-sport coach John Blane, Woodlawn's basketball team won state championships in 1927, 1937, 1943, and 1957 while the track team won state titles in 1932, 1944, 1945 and 1946. He coached Woodlawn against Phillips High School in the first game ever held at Legion Field i n 1927.
Notable alumni
Bobby Bowden (1948), football coach
Jim Carns, Alabama Legislature
Karlos Dansby, NFL football player
Vince Gibson (1951), football coach
Harry Gilmer (1943), All American football player and coach. University of Alabama, Washington Redskins, Detroit Lions
Mike Hale (1969), Jefferson County sheriff
Paul Hemphill, author
Marshall Miller (1960), international lawyer, environmentalist
Tony Nathan, former NFL Running back, Miami Dolphins, current coach
Terry Oden, Mayor of Mountain Brook, Al
Oliver Robinson (1957), basketball player, state legislator
Betsy Rogers, 2003 National Teacher of the Year

More Schools coming soon.